Today's update includes the first time we're posting an early sketch of a drawing. Sloth began last week's Orc piece with a completely different perspective, but he decided to abandon it and start from scratch. We thought you might want to see his early thoughts about the gang of tickling Orcs. Because it's not a finished piece, we're posting it in the free section.
Also in our free section is the picture I made for all my MySpace friends to thank them for adding me to their buddy lists.
My member's piece this week is one of my favorites so far. It doesn't exactly depict tickling against someone's will, but rather for the pure enjoyment of it. A weary king calls his loyal jester into his court for a few laughs...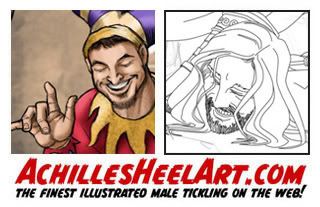 I hope you enjoy this weeks updates! We're busy working on some of the requests we received when we first opened.
Stay tuned!
Achilles