Every now and then on this site, I've got to slip in a piece that is just for me. When the George of the Jungle movie came out, it was practically porn for me: Brendan Fraser, running around mostly naked and barefoot for almost two hours. The fact that there was a brief but intense tickling scene between him and Abraham Benrubi was just the icing on the cake.
My piece this week is for anyone who wanted to see that scene go on a little longer...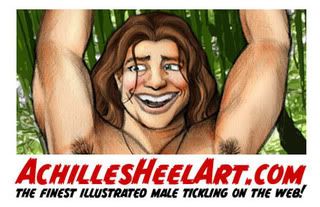 I've been promising a few people that I would post the requests that are still in our list, waiting to be drawn. I regret to say that some of these are a bit old, but I promise to get to all of them at some point soon! In no particular order, here are some of the images you can expect to see in the coming months:
-Foot tickling as a modern art installation, with pairs of feet sticking out of a wall, inviting visitors to tickle (this one has proven tricky to visualize)
-Carlo Masi on public display at the Folsom Leather Fair, offered up for $50 a tickle for charity.
-A classic beach burial scene with a young guy getting foot tickled by his two buddies (I think this is the image that will become the Summer 2008 homepage, so be patient!).
-A sequel to the "Orcs of Tickle Earth" with a little revenge on those giant Orcs.
-Christopher from the Sopranos being foot tickle interrogated while a bound Tony looks on (this one was on the back burner for awhile since we had done a few mafia pieces already).
-Another piece with the King from the "Good to be King" piece.
-A southern cub, held down and tickled by snakes.
-A pilot and co-pilot tickling each other's feet in the cockpit while the plane is on autopilot.
-The Fox news team Hannity and Colmes engaging in a little tickle torture in order to change each other's political views.
-Robin the Boy Wonder in a tickle torture or forced foot worship scenario. For you comic nerds out there, this will be the Titan's era Robin when it happens...in other words, he'll be at least 18.
-Tom Brady getting his revenge on the Peyton Brothers.
-Brendan Fraser's character from the Mummy tied and tickled on his feet and pits by Imhotep and his henchmen (this one may take awhile, since I just did a Brendan Fraser piece this week).
-CatinHat tongue-tickling Matthew McConnaughey's bare feet on a secluded beach (I asked Cat about this one, and he's all for it!).
-An excerpt from the story "Straight and Bound - Ryan" in which a jock is tied to some excercise equipment, tickled and forced to cum.
-An excerpt from another story in which a tough mafia guy is tickled through a hole in his dress sock (Wow, the mafia thing is a very popular scenario).
-Hagrid from Harry Potter having the tickling charm performed on his giant feet.
-Iroh from Avatar the Last Air Bender being tickle tortured on his feet by an Earthbender.
-A male cheerleader, forced to drop the girl he's holding aloft because someone attacks his very sensitive belly button.
-An excerpt from the story "Soccer Jock Slave".
-Prince William being tickled on his sheer socked feet by a bunch of his mates.
That's everything! If I've missed something, be sure to write and let me know. Also, feel free to write in with more requests. We're getting close to having 50 images in our member's section! I've got a special piece planned for when we hit that milestone.
Achilles