The color version of "Gallery of Laughs" has been posted. This will be the last time I attempt to draw more than 5 pairs of feet in one image (at least, for awhile). Despite the amount of time it took, this turned out to be one of my favorite pieces. I have to admit that the idea of a wall of anonymous male feet is certainly an appealing one. The tough part of this drawing was trying to give each pair it's own distinct look and personality.
Added to our Free Archive this week is one of the earliest drawings that Sloth ever did for the site. He was playing around with some foot photos I had given him (I have a lot of...ahem...reference material), and one of the poses struck him as being perfect for a flying superhero. This isn't a tickling drawing, just a sexy barefoot hero. Who knows? He could show up sometime in the future at the mercy of some evil fetishist villain...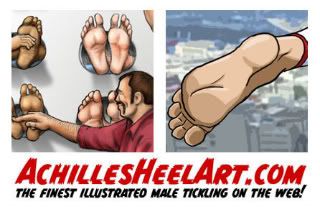 See you next Monday!
Achilles